How To Insulate An Attic
By: Webrunner • October 6, 2023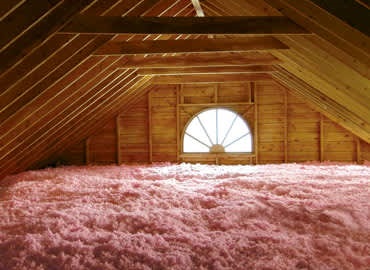 When it comes to keeping your home comfortable and energy-efficient, proper insulation is key. In places where the summers sizzle and winters bring chilly temperatures, having a well-insulated attic is especially important. We'll explore how to insulate an attic effectively, the costs involved, and why you should consider insulating your attic.
Why Attic Insulation Matters
When temperatures soar above 90°F and cold winters dip below freezing, maintaining a comfortable indoor environment can be a real challenge. This is where quality attic insulation comes into play.
Proper attic insulation serves several crucial purposes:
Temperature Regulation
Attic insulation helps maintain a consistent indoor temperature throughout the year. In summer, it keeps the scorching heat from infiltrating your home, while in winter, it prevents precious warmth from escaping.
Energy Efficiency
Insulating your attic can significantly reduce your heating and cooling costs. With energy prices on the rise, this can lead to substantial savings over time.
Moisture Control
Humidity can lead to moisture problems in your attic. Insulation acts as a barrier, helping to control moisture and prevent damage to your home's structure.
Cost to Insulate an Attic
One of the first questions homeowners have when considering attic insulation is, "How much will it cost?" The cost of insulating your attic can vary depending on various factors, including the size of your attic, the type of insulation you choose, and whether you hire professionals for the job.
Factors Affecting Cost
Attic Size
The larger your attic, the more insulation material will be required, which will increase the overall cost.
Insulation Material
There are various insulation materials available, such as fiberglass, cellulose, and foam. The cost can vary based on the material's R-value (thermal resistance) and installation requirements.
Labor Costs
Hiring professionals for attic insulation will incur additional labor costs, but it ensures a proper and efficient installation.
Accessibility
The ease of access to your attic can impact the labor required and, consequently, the total cost.
Local Factors
Local market conditions, including labor rates and material availability, can also influence the overall cost.
Average Cost Estimates
The average cost to insulate an attic in the United States usually ranges from $1,700 to $2,100. However, prices can vary significantly in different regions. For an accurate estimate, it's best to consult with local insulation contractors.
How to Insulate Attic Roof Rafters
Insulating attic roof rafters is a common method to ensure an energy-efficient and comfortable home. Here's a step-by-step guide:
Assessment
Begin by assessing your attic's current insulation and identifying any gaps or areas in need of improvement.
Safety Precautions
Wear appropriate protective gear, including gloves, a mask, and safety goggles, as attic insulation materials can be irritating to the skin and respiratory system.
Sealing Air Leaks
Before insulating the rafters, seal any air leaks in the attic, including gaps around pipes, vents, and electrical fixtures.
Choose Insulation Material
Select the insulation material best suited to your needs and budget. Fiberglass and foam board are popular choices for rafter insulation.
Installation
Carefully install the insulation between the rafters, ensuring a snug fit. Follow the manufacturer's guidelines for proper installation techniques.
Vapor Barrier
In cold climates, consider installing a vapor barrier on the warm side of the insulation to prevent moisture buildup.
Safety First
Always exercise caution when working in an attic, especially in hot weather. Stay hydrated, take breaks, and work during cooler parts of the day if possible.
Why Hire Professionals
While DIY attic insulation can be tempting to save money, hiring professionals offers several advantages:
Expertise
Pros have the experience and knowledge to choose the right insulation materials and install them correctly, ensuring optimal performance.
Efficiency
They can complete the job more quickly and efficiently, minimizing disruption to your daily life.
Safety
Attic work can be hazardous, and professionals are trained to navigate potential dangers safely.
Warranty
Many professional insulation contractors offer warranties so you won't have to worry about the quality of your insulation installation.
Contact A-Best Roofing for Attic Insulation Services
For homeowners looking to improve their home's comfort and energy efficiency, A-Best Roofing is here to help. With our expertise in attic insulation, we can assess your specific needs, recommend the right insulation materials, and ensure a flawless installation. Don't let tough weather conditions affect your home's comfort and energy bills.
Contact A-Best Roofing today for a free consultation and let us help you create a well-insulated attic that will keep your home comfortable year-round.